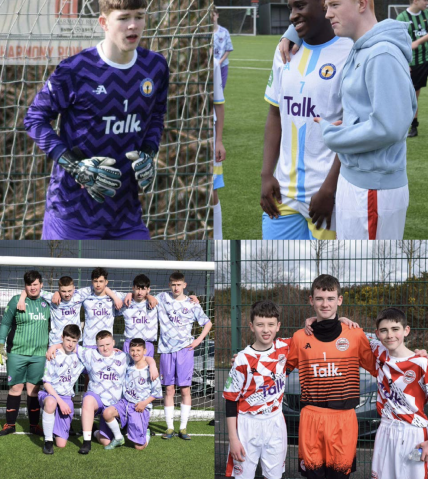 FC United Kit
The FC United kit is full of free resources, including leaflets, posters, and social media graphics, that can be downloaded by anybody for use by any individual, team, group, or organisation. You can also access the TALK and United To Prevent Suicide logos, which you may wish to incorporate onto your own strips, or in match programmes or stadium advertising…the list of uses is endless.
Click here to access the kit
Meaningful Conversations
FC United has lived experience at its heart and the Meaningful Conversations films encourage people to talk, to seek help and help reduce the stigma of talking about suicide and mental health issues. Talking about suicide undermines stigma and makes it easier for people at risk to ask for help. Talking about our feelings can be the first step to asking for help. Starting conversations about suicide can be very difficult but offers hope to people thinking about suicide and can save lives.
Paul McNeill & Aaron Connolly

Colin Hendry & Callum Hendry

Allan McManus & Isla Buchanan
ABOUT FC UNITED
The FC United To Prevent Suicide team, more commonly known as FC United, was founded in August 2021. With the help of some famous faces, the team's home kit was launched in September with the all-important TALK sponsorship.
Since then the team has gone from strength to strength with a number of high profile signings and more than 11,000 supporters on Twitter, helping to spread the word by proudly sporting their FC United shirts. Amateur clubs, community groups and players at football tournaments have also embraced FC United, including:
East Kilbride Albion;
EK Burgh Utd 2007;
Govan Youth Information Project;
and Vics In The Community.
We've partnered with the Scottish Football Association, the Scottish Lowland Football League, Scottish Premiership teams, the Scottish Professional Football League Trust, Scottish Women's Football, and the Scottish Women's Premier League, amongst others.
The FC United campaign received the Marketing Society Scotland's STAR 2022 Gold Award in the Marketing In Society - Charity category.
Follow Scotland's Second Team